Annual Conference AAEE 2016
'The Changing Role of the Engineering Educator for developing the Future Engineer'
Welcome to the website of the 27th Australasian Association for Engineering Education (AAEE) Annual Conference. AAEE2016 is being hosted by Southern Cross University and will be held in Coffs Harbour, Australia, on 4-7 December 2016.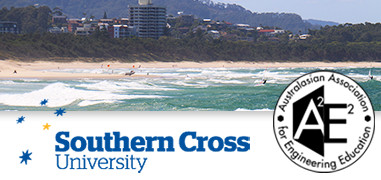 How to host an AAEE Annual Conference
Each year, AAEE conducts an annual conference aimed at promoting scholarship in engineering education and facilitating the dissemination of research and best practice throughout the Australia and New Zealand engineering education communities. The association has a responsibility to ensure that each hosting institution is aware of the high expectations which go with the granting of host status to meet these goals.
Universities interested in hosting conferences should prepare an expression of interest as per the required guidelines, including information on institutional support, proposed organising committee, venue details, and proposed theme.
For more details about the many benefits of hosting a conference, please contact Dr Llew Mann, AAEE Conference Coordinator, at:  AAEEConferences@engineersaustralia.org.au